Dark chocolate, radiant skin + wellness magic—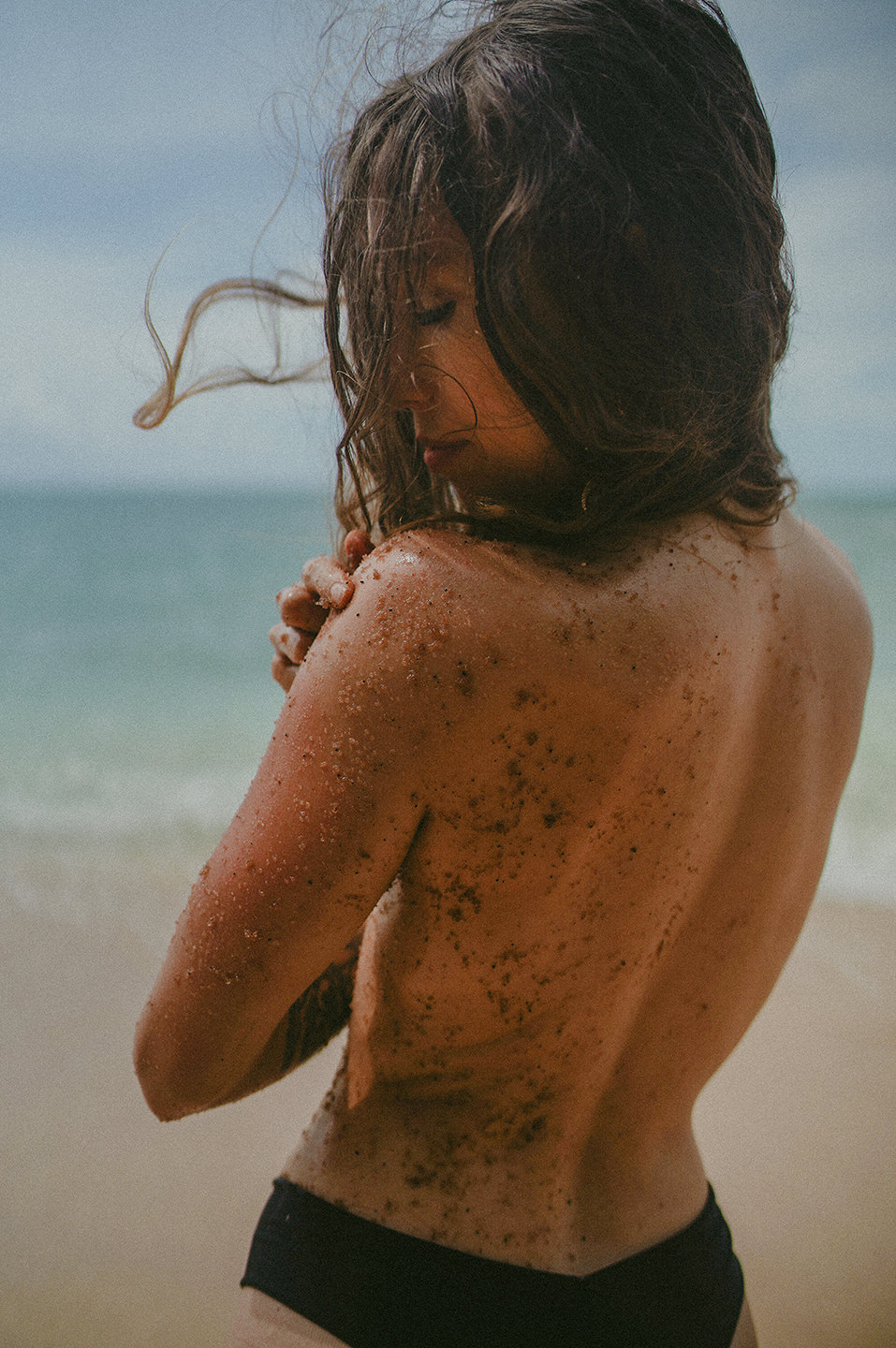 My dear friend Vallia chocolate scrubbing by the sea…
I am fascinated not only by the history of cacao but by the incredible wellness benefits of this unique superfood that literally means Food of the Gods. I, of course, have always loved chocolate, who doesn't? I only began to understand the true magic of this illustrious fruit known as the cacao pod when I moved to Maui. A budding mentor of mine was curiously interested in not only growing cacao trees on the east side of the island but in turning the beans into delicious chocolate bars. He was the one who inspired me to use chocolate for the chocolate body scrub.
I have been aware of the health benefits of consuming dark chocolate for quite some time, but as I am doing further research for this article— I am right now realizing that since I have been consistently using the chocolate scrub on my entire body for the last 5 years, just how much my skin has improved, how much healthier my hair is, MY BODY IS.
The legend—
The ancient Aztecs believed cacao was a gift of Quetzalcoatl, the god of wisdom, while the Maya called the cacao seed God's sustenance. The cacao bean was literally used as currency up until the 19th century and was mostly consumed as a drink. Both the Mayans and Aztecs believed the cacao bean had magical, or even divine, properties, suitable for use in the most sacred rituals of birth, marriage, and death.
Theobroma Cacao, the Latin name for chocolate, means "Food of the Gods" for a reason. Dark chocolate stimulates the bliss factor in your brain and is SUPER RICH in vitamins, minerals, and antioxidants that nourish skin AND its intoxicating aroma and conditioning properties make it the perfect ingredient for hair care too.
Treat yo self!
Skin benefits of dark chocolate— Super nutrient-packed with powerful antioxidants that reduce free radical damage in your internal systems. High flavonoid content shields your skin from harmful rays and allows you to absorb vitamin d, and UV light. Organic cacao reduces stress hormones throughout the body, reducing inflammation and increases blood flow to the skin for improved hydration and elasticity.
Hair benefits of dark chocolate— Copper, zinc, and iron are minerals that promote the cell renewal growth process, and dark chocolate happens to be full of them. Consuming 70%+ of dark chocolate every day will increase oxygen and blood flow to the scalp and lead to healthier and strong hair.
It is said that our skin is a true reflection of our health because it is the last place to absorb nutrition. If it is so amazing for your health and skin to consume dark chocolate imagine what lovingly rubbing it directly onto your skin and hair will do for your beauty, for your radiance! Our skin is the largest absorbing organ we have on our bodies, whatever we put on our skin bypasses the digestion process and enters straight into the bloodstream.
More reasons to love dark chocolate—
According to the USDA, unsweetened cocoa powder has an ORAC value of 55,653. That's significantly higher than other foods commonly referred to as superfoods, such as blueberries, goji berries, and pomegranate.


The damage free radicals do to healthy cells can ultimately cause cancer. With its high level of antioxidant compounds called polyphenols, cacao may be able to protect cells against this damage.

Consuming dark chocolate regularly keeps your skin hydrated and well-nourished for a problem-free complexion


Dark chocolate makes an excellent skin-detoxifier in combination with caffeine. It sloughs off dead skin cells and allows new, unstifled, fresh skin to shine through. (There is organic fresh ground coffee in every batch of the chocolate scrub.)


Dark chocolate reduces elevated stress hormones so you can relax and let your inner beauty shine through.
Natural beauty benefits—

All of the research you will find about the health + beauty benefits of eating dark chocolate depends on how much you consume and the quality of the chocolate. In order for it to be good for you it has to be at least 70% cacao and your only supposed to eat less than 2 small squares a day. The stronger the cacao is the more bitter it tastes and we all know how difficult it is to just eat 2 small squares once we start. Therefore, using it on your skin in it's purest and most potent form is no doubt the best way to maximize the full benefits of this magical superfood!
As I use fresh ground + organic cacao nibs (100%), cacao powder (100%), AND organic, fresh ground coffee in the chocolate scrub! All that you are reading here about eating dark chocolate being so beneficial for you is magnified when you incorporate this superfood into your beauty routine via the body scrub. Eating dark chocolate requires that you digest it first, then you absorb whatever is left after the digestive acids get to it. Massaging it into your skin and letting it soak in, bypasses this process completely. Your body is better able to absorb all the A-MAZING benefits straight to your bloodstream. Giving your beautiful body the nutrients it needs to look + feel forever young YO! #agelessbeauty
Please comment below + share your thoughts, and pass it along to anyone you know who might benefit💗
Written with love by— Andrea Berset
*Commenting instructions— click on post comment, type in your comment, then click post comment, pop up comes up— just type in your first name and then click comment as a guest, voila!
**This article is not, nor is it intended to be, a substitute for professional medical advice, diagnosis, or treatment, and should never be relied upon for specific medical advice. This article is for informational purposes only, even if and to the extent that this article features the advice of physicians and medical practitioners.


**sources
http://exhibits.mannlib.cornell.edu/chocolate/moneygrewontrees.php
https://healthyeating.sfgate.com/antioxidant-benefits-raw-cacao-3990.html
https://www.huffpost.com/entry/dark-chocolate-beauty-benefits_n_3710027
***learn more about fair trade regions